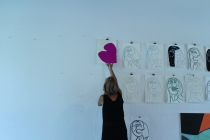 MARINA ADAMS is a painter based in both New York City and Parma, Italy. She earned degrees from Tyler School of Art, Temple University and Columbia University's School of the Arts.
A recent solo exhibition of Adams' work, titled
Soft Power,
was on view at Salon 94 Bowery this past winter, 2017 as well as an exhibition with Marc Jancou at Giovanella Kunstglaserei in Gstaad, Switzerland. In 2016, Adams presented a solo booth with Karma Gallery and Books at the Independent, NY, which was concurrent with their publication of her newest book, titled
Portrait and a Dream
. Past solo shows include
Marina Adams
at Galerie Gris, Hudson, NY (2015 and 2013);
Marina Adams: Coming Thru Strange
at Hionas Gallery, NYC (2013),
Marina Adams
at CUE Art Foundation, NYC (2008), and
The Nature of Line
at Magazzino d'Arte Moderna, Rome, Italy (1997).
Adams' work was recently on view in
Aspects of Abstraction
at Lisson Gallery's new 10th Avenue space, NY,
Artemisia
at Albert Baronian Gallery in Brussels, Belgium and
Vanishing Points
curated by Andrianna Campbell at James Cohan Gallery, New York, NY. Other recent groups include
Quicktime
at the University of the Arts in Philadelphia, PA and
Say Yes
at Wayne State University, Detroit, MI. Her work was also included in
Making & Unmaking: An exhibition curated by Duro Olowu
at the Camden Arts Centre, London, UK and
Boys & Girls Can Still Draw
at Nathalie Karg Gallery, NYC. Adams also co-organized with CAMH curator Dean Daderko a large group exhibition titled
Sex in the City
at D.U.M.B.O. Arts Center, Brooklyn, NY (2007).
Forthcoming group exhibitions include
A Space for Thought
at Brand New Gallery, Milan, IT and a solo exhibition at Annarumma Gallery in Napoli, IT.
Adams has collaborated with poets generating the recent publication
Actualities
with Norma Cole (Litmus Press, 2015),
Taormina
with Vincent Katz (Kayrock, 2012),
The Tango
with Leslie Scalapino (Granary Books, 2001) and
Vue sur Mer
with Christian Prigent (Gervais Jassaud, 2010).
She is a 2016 recipient of the John Simon Guggenheim Memorial Fellowship.