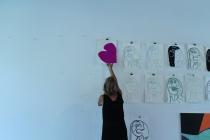 MARINA ADAMS is a painter based in New York City; Bridgehampton, Long Island and Parma, Italy. She earned degrees from Tyler School of Art, Temple University, Philadelphia, PA and Columbia University, New York, NY.
Recent solo exhibitions include
Flower Power
at Von Bartha, Copenhagen, Denmark;
What
Are
You
Listening
To?
, LGDR, New York, NY;
Wild Is Its Own Way
, Stephen Friedman Gallery, London (September 2021);
Deep Breathing
, Von Bartha, S-Chanf, Switzerland (June 2021); and
Works on Paper (2016-2021)
, Stephen Friedman Gallery (June 2021). Other solo exhibitions include The Journal Gallery, New York, NY (March 2021);
FOCUS: Marina Adams
, The Modern Art Museum, Fort Worth, TX (November 2020);
Anemones
at Salon 94 Bowery, NYC, which was accompanied by a monograph (2019); and
The Secret of Greek Grammar
at Larsen Warner Gallery in Stockholm, Sweden. In 2016, Adams presented a solo booth with Karma Gallery and Books at the Independent Art Fair, NYC, concurrent with their publication of her book, titled
Portrait and a Dream
. Past solo shows include
Soft Power
at Salon 94, NYC (2017); Galerie Gris, Hudson, NY (2015; 2013); Hionas Gallery, NYC (2013); CUE Art Foundation, NYC (2008); and Magazzino d'Arte Moderna, Rome, Italy (1997).
An upcoming group show,
Regarding Kimber
, curated by Jay Gorney at Cheim & Read, New York, NY opens on November 17. Recent group shows include
Structuring Light: Marina Adams, Paul Mogensen and Joanna Pousette-Dart
, curated by Raymond Foye at Maruani Mercier, Brussels, Belgium;
Unrepeated: Unique Prints from Two Palms
, David Zwirner, New York, NY;
Affinities for Abstraction: Artists on Eastern Long Island 1950 to 2020
, Parrish Art Museum, NY;
Shapes
, Alexander Berggruen, NYC;
Good Pictures
, Jeffrey Deitch, NYC;
(Nothing But) Flowers
, Karma, NYC;
Painting the Essential: New York, 1980-Present
, Online curated by Chris Martin, Timothy Taylor Gallery, London. Other selected group exhibitions include
Aspects of Abstraction
, Lisson Gallery, NYC;
Artemisia
, Baronian Gallery, Brussels, Belgium;
Vanishing Points
curated by Andrianna Campbell at James Cohan Gallery, NYC and
Boys & Girls Can Still Draw
at Nathalie Karg Gallery, NYC. Her work was also included in
Making & Unmaking: An exhibition curated by Duro Olowu
, Camden Arts Centre, London, UK. In 2007 Adams co-organized with CAMH curator Dean Daderko the large group exhibition
Sex in the City
at D.U.M.B.O. Arts Center, Brooklyn, NY.
Adams has collaborated with poets generating
Actualities
with Norma Cole (Litmus Press, 2015);
Portrait and a Dream
with a poem by Charles Bernstein;
Taormina
with Vincent Katz (Kayrock, 2012);
The Tango
with Leslie Scalapino (Granary Books, 2001); and
Vue sur Mer
with Christian Prigent (Gervais Jassaud, 2010).
She is a 2016 recipient of the John Simon Guggenheim Memorial Fellowship, and received the 2018 Award of Merit Medal for Painting from the American Academy of Arts and Letters.